Cutting out deadwood, planting new, resilient trees
By Nancy Lavin, Rhode Island Current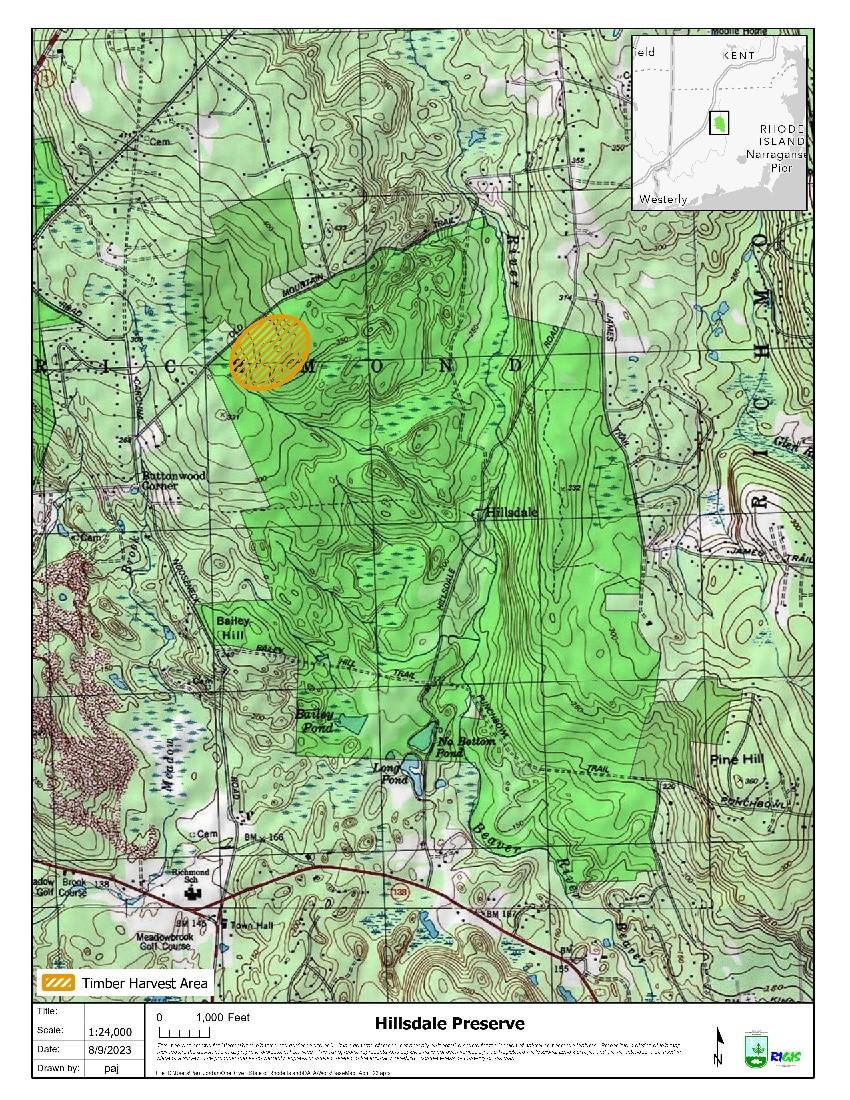 DEM is working to preserve a 45-acre parcel of state
forestland in Richmond, pictured in the orange oval.
(Courtesy RIDEM)
The Rhode Island Department of Environmental Management is teaming up with a national group of scientists and foresters to help preserve and protect state forests against climate change.
The partnership between DEM and the Adaptive Silviculture for Climate Change network will help "future-proof" a 45-acres swath of forest in Richmond, according to a statement from DEM.
"This project aims to find out how different forest types will respond to future climate," DEM Division of Agriculture and Forest Environment (DAFE) Supervising Forester Will Walker said in a statement.
"As foresters, DEM wants to improve wildlife habitat, reduce wildfire risk and intensity, and protect water quality. These are the goals of many silvicultural projects. But, at the same time, we must envision what the northern forest is going to look like in 100 years, 500 years, 1,000 years."
Work, which is slated to begin on or about Aug. 21, includes planting new trees that better withstand warmer and drier temperatures, while removing standing dead oak trees, which were killed by drought and repeated inset defoliations, according to DEM. There will also be restoration to salvage existing oak trees where possible.
There will be no clear-cutting of trees. Low, dense shrubs and standing dead trees will remain to preserve wildlife habitat and promote regrowth.
Since 2015, DEM has harvested 750 acres of state forestland killed by insect infestations, which represents less than 2% of the total forest under state management.
GET THE MORNING HEADLINES DELIVERED TO YOUR INBOX
SUBSCRIBE
Rhode Island Current is part of States Newsroom, a network of news bureaus supported by grants and a coalition of donors as a 501c(3) public charity. Rhode Island Current maintains editorial independence. Contact Editor Janine L. Weisman for questions: info@rhodeislandcurrent.com. Follow Rhode Island Current on Facebook and Twitter.