Somethings have changed, but not enough

Source:
SocialWorkDegreeCenter.com
More details below...
Poverty in America: Then and Now
Many things contribute to the poverty rate in America: education, minimum wage and housing, just to name a few. The first reliable poverty rate was documented in 1959. How much have things changed since the 1960s?
Poverty Facts
Total number of Americans below poverty line (1)
1960s: 39 million
Today: 46.5 million
Percentage of Americans below poverty line (2)
1960s: 22%
Today: 15%
Income
Median household income (3,4)
1960s: $6,500 (2014 dollars: $51,524) (18)
Today: $51, 371
Income tax rates (mid-tier) (5)
1960s: 23%
Today: 17%
Minimum wage (6)
1960s: $1.29/hour (2014 dollars: $10.23/hour) (18)
Today: $7.25/hour
Unemployment rate (7)
1960s: 5.5%
Today: 7.4%
Education
Literacy rates (8,9)
1960s: 97%
Today: 99%
High school completion (percentage of 25 or older population) (4)
1960s: 42%
Today: 80%
College completion (percentage of 25 or older population) (4)
1960s: 8%
Today: 24%
Home Life
Average cost of a house (4)
1960s: $20,000 (2014 dollars: $158,536) (18)
Today: $272,900
Average food costs (10)
1960s
Bread, $0.21 (2014 dollars: $1.66) (18)
Dozen eggs, $0.46 (2014 dollars: $3.65) (18)
Today
Bread, $1.29
Dozen eggs, $1.69
Average gasoline costs (11)
1960s
$0.35/gallon (2014 dollars: $2.77/gallon) (18)
Today
$3.64/gallon
Health care expenditures per capita (12)
1960s: $147 (2014 dollars: $1,165) (18)
Today: $8,402
Marriage rates (of population 18 and older) (13)
1960s: 72%
Today: 51%
Government
Fixed poverty thresholds (14,15)
1960s
Individuals, $1,500 per year (2014 dollars: $11,890) (18)
Families, $3,000 per year (2014 dollars: $23,780) (18)
Today
Individuals, $11,670 per year
Families of four, $23,850 per year
Important legislation (16,17)
1960s
Economic Opportunity Act (1964)
Food Stamp Act (1964)
Medicaid (1965)
Amendments to Social Security (1965)
Today
American Recovery and Reinvestment Act (2009)
Supplemental Nutritional Assistance Program (SNAP) (renamed in 2008)
Affordable Care Act (2010)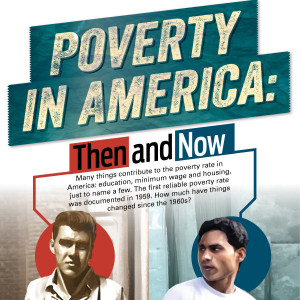 Sources: