Pups Named Through Public Participation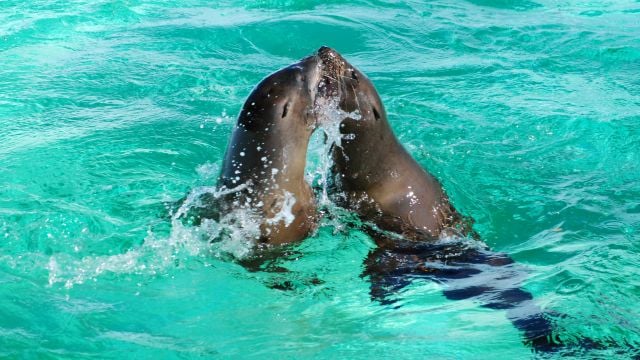 Mystic, CT: In their ongoing ocean conservation efforts, Mystic Aquarium will provide a permanent home for two rescued California sea lions. The two new residents-a male and female- are part of an Unusual Mortality Event (UME) for the species in California. In 2015, a record number of sea lion pups were found stranded on California beaches emaciated and dehydrated.
Several attempts to re-release these rescued two-year old pinnipeds back into the ocean were unsuccessful. As a result, NOAA Fisheries deemed them non-releasable.
The adorable duo arrived at Mystic Aquarium from the Marine Mammal Center in Sausalito, CA on Friday, June 26. Since their arrival, the sea lion pups have been receiving ongoing veterinary care and enrichment training in Mystic Aquarium's Aquatic Animal Study Center.
During rescue and rehabilitation, marine mammals are often numbered and not named. Now in good health and in permanent care, Mystic Aquarium engaged the public to find names for these important new ambassadors of the species.
After a two-week online polling and voting process, the male sea lion has been named Ripley. The female has been dubbed Clara.
Earlier this summer, Mystic Aquarium trainer Christine Metzger of Stonington, CT, traveled to California to provide assistance in partnership with other institutions to assist with rehabilitation efforts at the Channel Islands Marine & Wildlife Institute (CIMWI).
The contest provided Mystic Aquarium the opportunity to shed additional light on the important message of conservation both in California and here on the shores of New England.
For the welfare of all the animals at Mystic Aquarium, the two will remain in quarantine for several months. It is anticipated that Clara and Ripley will be introduced to the public later in the year.
Guests are invited to sign-up for email notifications at mysticaquarium.org that will also provide updates on Clara and Ripley. Social Media channels will also provide regular updates.
Clara and Ripley join Mystic Aquarium's other success stories including fellow pinnipeds Ziggy Star, Coral, Astro, Jetty and Boomerang.