Switch from costly, risky hedge funds and "Back to Basics" announced by Magaziner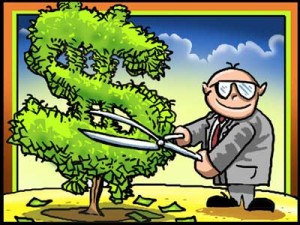 When Seth Magaziner ran for General Treasurer in 2014, he promised his top priority would be putting Rhode Island's pension funds in a better position by securing higher returns on investment at the lowest practical risk.
There is approximately $7.6 billion total in the state's public pension funds of which about $1.1 billion has been invested in so-called "hedge funds" that were originally intended to provide investors with good returns and security.
However, as numerous reports have shown, hedge fund performance hasn't matched hedge fund promises, except perhaps for their managers who have become billionaires while handling other people's money.
The Treasurer's office conducted months of research and consultation with financial experts. They also ran "thousands of models and projections" to come up with a better way to get better returns on investment without undue risk.
The result was announced by Seth today - a "Back to Basics" plan to move about half of the money the state has invested in hedge funds – around half a billion dollars – into safer, better investments such as low-fee index funds.
This will take place over the next two years.
I asked Seth to talk about the challenges of coming up with such a plan, such as public impatience with the pace of change.
"When you're moving this much money," he said, "You have to do it in an orderly fashion." He noted that making such changes was "like steering an aircraft carrier – you can't turn on a dime."
Then there is the matter of exit fees involved when leaving investment vehicles such as hedge funds. "We wanted to make sure we avoided early redemption fees" which in some cases could be significant.
The other factor requiring a careful, deliberate approach is the need to find solid investment alternatives.
I told Seth that the dream of many people, me included, is to see pension fund money used to create local jobs and businesses. But I acknowledged the fact that pension law doesn't really allow that to be a major pension fund priority.
Seth pointed out that the first duty of any pension trustee is to secure the best rate of return for beneficiaries with the least risk.
That said, among the alternatives they've explored are funds that invest in infrastructure. He noted the infrastructure investment market is very "hot" at the moment affecting the cost of buying in. Of course, the basic rule of investing is "buy low, sell high" not vice versa, timing is a key issue.
Rhode Island has used its pension funds' proxy voting rights to join with other public pension funds around the country to support shareholder resolutions against excessive executive pay and other abusive corporate practices. These pension funds control millions of shares so they carry some weight at corporate annual shareholder meetings.
The state pension fund is no longer in crisis, as it was six years ago. Since Seth took office two years ago, the fund has run in the black, earning more than $390 million and beating the fund's goals.
Rather than give back so much to hedge funds, the "Back to Basics" plan should reduce costs and boost earnings while taking a cautious, prudent approach to risk.
Here is the Treasurer's official new release about the plan:
NEWS RELEASE
General Treasurer Seth Magaziner announced today that he will present a new "Back to Basics" investment strategy to the State Investment Commission for consideration and approval.
Among the changes recommended by Treasurer Magaziner is a significant reduction in the state's investments in hedge funds. Under the "Back to Basics" plan, the state will reduce its investment in hedge fund strategies by more than $500 million over the next two years, and reallocate these funds to more traditional asset classes.
Back to Basics is the result of an extensive review of the state's pension investments launched earlier this year by Treasurer Magaziner, involving many of the state's leading financial experts. Among those participating in the review were the members of the State Investment Commission and Retirement Board, Treasury investment staff, and Pension Consulting Alliance, a leading national pension investment advisor.
"While our pension system has achieved positive performance and beaten our benchmark since I took office, I believe that we can do better," said Treasurer Magaziner. "Our 'Back to Basics' approach will improve returns through common sense investments that have proven they can deliver growth and stability."
Performance has been positive since Treasurer Magaziner took office in January 2015, earning more than $390 million and beating the plan's own benchmark.
"I am committed to bringing a steady and reliable hand to our state's finances," said Treasurer Magaziner. "With pension costs comprising a large percentage of state and local budgets, the stronger performance projected under our 'Back to Basics' strategy can save millions for taxpayers and strengthen retirement security for our public employees."
Under Back to Basics, a majority of the pension fund will be invested in strategies designed to produce strong returns over time. These growth and income strategies mainly consist of low-fee index funds. The rest of the portfolio will be invested in assets designed to protect the pension system against market risks such as inflation and volatility.
August 2016 Investment Performance
The RI pension fund saw positive performance in the month of August, earning roughly $20 million in net investment returns, beating the plan's benchmark as well as a traditional 60/40 benchmark. During the month, the pension system returned 0.44% compared to the 0.33% return of the benchmark and 0.16% return of the 60/40.
To date in 2016 the pension has earned roughly $334 million in investment gains and contributions, offset by $256 million in pension benefit payments for a net increase of approximately $77 million.
About the State Investment Commission:
The State Investments Commission (SIC) oversees the assets of the state's pension system as well as non-pension related investments such as the General Fund.
Chaired by General Treasurer Seth Magaziner, SIC membership includes Robert Benson, Chief Investment Officer, Amica Insurance; Michael Costello, Managing Partner, Endurance Wealth Management; Thomas Fay, Regional Vice President, BNY Melon; Marie Langlois, Former Managing Director, Washington Trust, and Chair of the RI Foundation Investment Commission; Sylvia Maxfield, Dean, Providence College Business School; Paula McNamara, President, Murray Charitable Foundation; Tom Mullaney, Director of the State Budget Office; Frank Karpinski, Executive Director of the Employees Retirement System; and Marcia Reback, Former President, RI Federation of Teachers.
About Pension Consulting Alliance:
Pension Consulting Alliance, LLC is a nationally recognized consulting firm that provides thoughtful, conflict-free, independent investment analysis. In addition to Rhode Island, PCA's public pension clients include CalPERS, CalSTERS, New York, Washington, Oregon, South Carolina, Kansas, and Hawaii.