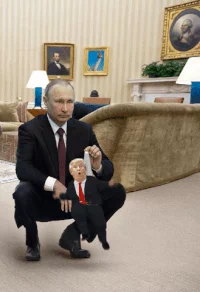 Former reality show star Donald Trump has repeatedly claimed that the Russians did not meddle in the 2016 election.
He knows this because he said Russian President Vladimir Putin told him he didn't do it. Case closed!
11 of the defendants are charged with conspiracy to commit computer crimes, eight counts of aggravated identity theft, and conspiracy to launder money.
Two defendants are charged with a separate conspiracy to commit computer crimes, according to the indictment.
Trump knows exactly whose fault it is. Even though he lifted the Russia sanctions President Barack Obama imposed and has refused to address election meddling, he says it's his predecessor's fault.
"The stories you heard about the 12 Russians yesterday took place during the Obama Administration, not the Trump Administration," Trump tweeted from Scotland before playing a round of golf.
"Why didn't they do something about it, especially when it was reported that President Obama was informed by the FBI in September, before the Election?"
When Obama tried to push a response to Russian election interference in September 2016, it was Senate Majority leader Mitch McConnell who stopped it by

refusing

to sign on to a bipartisan statement of condemnation.
In contrast, Trump has repeatedly praised Putin and is expected to meet with him privately next week, with no Americans in the room.
Obama not only imposed new sanctions on Russia, but he also responded by expelling 35 Russian diplomats in December 2016.
Lawmakers have called for Trump to cancel his meeting next week with Putin after Rosenstein announced Mueller's latest indictment, but the White House dismissed their concerns.
A real leader would be FURIOUS with Russia, outraged, that the data of 500,000 Americans has been stolen, a campaign was hacked, emails were taken, and a list of other offenses.
This country has been attacked and its so-called president is responding by spending a little executive time with Putin. Even worse, Republicans just don't seem to care.
If Trump now thinks Russia interfered in our election and its Obama's fault, then why is responding by meeting with the Russian leader in Helsinki, unless that, too, is his predecessor's fault.


Author

Conover Kennard
makes tea partiers cry as a hobby. She was Commander of Jade Helm15 during the failed takeover of the South. She's also one of the biggest arseholes on Twitter. At night, she can be found drinking Conservative tears while pulling off the wings of flies just because she can. She is the founder of a Marxist, Commie, Maoist, Socialist site and has contributed to several other sites, blah blah blah. She is an awful person but she doesn't like to brag about that.