DEM Encourages Rhode Islanders to Report Sightings of Wild Turkey Broods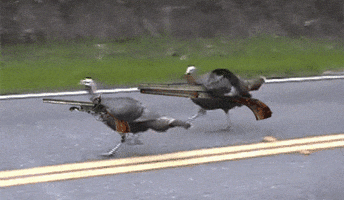 EDITOR'S NOTE: Every year, DEM asks the public to report on turkey sightings. This year, Defenders of Animals are asking you NOT to report them, stating DEM uses this information to support the hunting of turkeys. That's actually pretty obvious in the language in the DEM news release below which focuses on hunting and talks about our turkeys in terms of "harvests." I like my backyard turkeys so I will boycott DEM's count. - Will Collette
The Rhode Island Department of Environmental Management (DEM) is asking the public to report sightings of wild turkey hens – both with a brood of baby turkeys and without – to help with research efforts. Currently, DEM is evaluating the state's wild turkey population, which is believed to be growing based on the number of young reaching maturity and an increase in harvests reported during the spring hunting season that ended last month. The 2019 spring harvest was 270 birds, an increase of 42% from the 190 taken during the 2018 season. The 80-bird increase is likely due to the spring season bag limit being increased from one to two birds.
Information gathered from the public is helpful in determining the number of young birds that survive after common causes of mortality such as predators, weather, and road kill are considered. DEM's Division of Fish & Wildlife receives hundreds of brood reports annually that assist biologists with monitoring recruitment, population dynamics, and distribution of the wild turkey flock in Rhode Island.
"Results from this survey allow biologists to determine wild turkey productivity and reproductive success by estimating the average number of turkey poults per hen, assessing annual fluctuations in the turkey population, gauging reproductive success from year to year, and recruitment of new birds into the fall population," said Jenny Kilburn, a gamebird biologist in DEM's Division of Fish & Wildlife. "Rhode Island has a healthy population of turkeys and this data helps us ensure it stays this way."
The public is encouraged to report sightings of hens with or without broods via a brief online survey; participants should record the date, location, and the total number of hens and poults seen. Brood reports can also be mailed to Wild Turkey Project, 277 Great Neck Road, West Kingston, RI 02892.
For those who do not have internet access, brood reports can be made by calling the Division of Fish and Wildlife at (401) 789-0281.
DEM works actively to protect and enhance wildlife habitat in Rhode Island forests and management areas to ensure healthier, more diverse, and abundant wildlife populations. DEM's turkey restoration program, which ran from 1980 to 1996, resulted in increased opportunities for the public to see and hunt wild turkeys.
The restoration project released wild trapped birds that established new turkey flocks in Exeter, Burrillville, Little Compton, West Greenwich, Foster, Scituate, and Tiverton. Restoration of the wild turkey was funded by state hunting license fees and the Federal Aid in Wildlife Restoration program.