DEM Announces Freshwater Fishing Workshops This Summer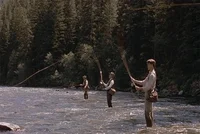 The Rhode Island Department of Environmental Management (DEM) announced it is hosting a fly-fishing clinic, an evening fly-fishing event for intermediate/advanced anglers on the Wood River, and a series of free fly-tying workshops for novice and experienced fly-tiers this summer.
WHAT: Introduction to Freshwater Fly-Fishing
WHEN: Saturday, June 8| 9 AM-3 PM Addieville East Farm, Mapleville
Families with children 10 years and older learn about fly-fishing equipment, fly-tying, fly-casting, and the best fishing areas across Rhode Island during this six-hour workshop. Lunch and equipment provided. Registration is required. Fee: $15 per person. To register, contact Kimberly Sullivan at Kimberly.sullivan@dem.ri.gov.
WHEN: Thursday, June 13| 5:30-8:30 PM Arcadia Management Area Check Station, Route 165
Adults and children ages 10 and up with fly-fishing experience are invited to spend an evening fly-fishing on the Wood River. Fly rod and equipment will be provided; however, participants must supply their own waders and eye protection, and have a valid freshwater fishing license. This is an intermediate-advanced fishing safari. Registration is required. To register, contact Kimberly Sullivan at Kimberly.sullivan@dem.ri.gov.
WHAT: Free Fly-Tying Workshops
WHEN: Monday, July 8, 15 | 6-8 PM Coventry Public Library, 1672 Flat River Road, Coventry Wednesday, July 24, 31, 28 | 6-8 PM Greenville Public Library, 573 Putnam Pike, Greenville Wednesday, August 21, 28| 6-8 PM North Smithfield Public Library, 20 Main Street, Slatersville
Instruction on freshwater angling will be included, and all equipment and materials will be provided. Participants are welcome to bring their own materials, if they prefer. Children ages 10 and older are invited to participate. Space is limited and registration is required. To register, contact Scott Travers at Scott.travers@dem.ri.gov.
These workshops are part of DEM's Aquatic Resource Education (ARE) Program. ARE is a federally funded program designed to enhance the public's understanding of aquatic resources by providing safe and responsible fishing training opportunities. As part of a larger network of recreational opportunities in the state, fishing plays an important role in connecting people with nature, promoting health, attracting tourism, and supporting a treasured tradition for Rhode Island families.
According to the US Fish & Wildlife Service, there are around 175,000 recreational anglers (age 16+) in Rhode Island. And recreational fishing contributes more than $130 million to the economy each year.
Follow DEM on Facebook at www.facebook.com/RhodeIslandDEM or Twitter (@RhodeIslandDEM) for more information on recreational opportunities in Rhode Island as well as other timely updates.