Fly-Tying Workshops Offered For Saltwater And Freshwater Anglers This Fall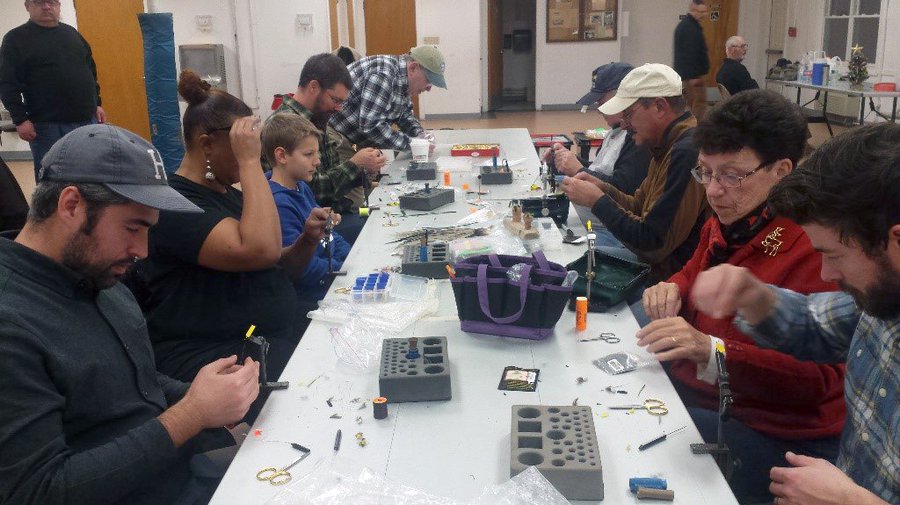 The Rhode Island Department of Environmental Management (DEM) is offering workshops for anglers interested in developing and honing their fly-tying skills.
Hosted by the Division of Fish and Wildlife's Aquatic Resource Education Program, the sessions will be held from 7:15 PM to 9:15 PM on Mondays through December 23 (no session will be held on December 9).
The workshops will take place at the Cold Spring Community Center, located at 44 Beach Street in North Kingstown.
Designed for both beginning and intermediate fly-tiers, the classes, taught by highly skilled fly-fishing instructors, will immerse participants in the arts of knot-tying and fly-tying for both freshwater and saltwater fishing.
All equipment and fly-tying materials are included with the registration fee.
The cost is $5 per class.
Pre-registration is recommended, although walk-ins are accepted. Participants will have a chance to win a holiday tree covered with various flies.
DEM's Aquatic Resource Education (ARE) Program is a federally funded program designed to enhance the public's understanding of Rhode Island's aquatic resources by providing safe and responsible fishing training opportunities.
As part of a larger network of recreational opportunities in the state, fishing plays an important role in connecting people with nature, promoting health, attracting tourism, and supporting a treasured tradition for Rhode Island families.
According to the US Fish & Wildlife Service, there are around 175,000 recreational anglers (age 16+) in Rhode Island. Recreational fishing contributes more than $130 million to the state economy each year.
For more information and for registration materials, contact Kimberly Sullivan at 401-539-0019 or via e-mail at kimberly.sullivan@dem.ri.gov.
Follow DEM on Facebook at www.facebook.com/RhodeIslandDEM or Twitter (@RhodeIslandDEM) for more information on recreational opportunities in Rhode Island as well as other timely updates.