Fox News host

desperately warns

viewers of danger after Trump say he's taking hydroxychloroquine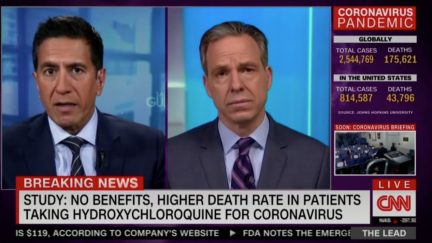 Fox News host Neil Cavuto rushed to warn viewers on Monday that despite President Donald Trump's new claim that he is taking hydroxychloroquine to prevent the infection by the coronavirus, the drug is extremely dangerous to certain populations.
Trump announced that he is taking the anti-malarial drug on Monday, clearly with some glee at the stunned reactions he provoked.
Despite extremely thin evidence for its effectiveness in fighting COVID-19, Trump and his right-wing media allies spent weeks promoting it as a potential miracle cure for the infection. In recent weeks, they had mentioned it much less, but apparently the president has still been thinking about it.
"I take it," Trump said. "I was just waiting to see your eyes light up when I said this, when I announced this."
He said he asked the White House doctor if he could take it, and the doctor agreed.
On Fox News, after airing Trump's remarks, host Neil Cavuto urged viewers to be aware of the dangers from the drug.
"If you are in a risky population here, and you are taking this as a preventative treatment," he said, "it will kill you. I cannot stress enough. This will kill you!" He noted that the FDA has been very careful about its recommendations around the drug.
Fox News's Neil Cavuto is stunned by Trump's announcement that he's taking hydroxychloroquine: "If you are in a risky population here, and you are taking this as a preventative treatment ... it will kill you. I cannot stress enough. This will kill you."
For two months, President Trump repeatedly pitched hydroxychloroquine as a safe and effective treatment for

coronavirus

, asking would-be patients "What the hell do you have to lose?"Growing evidence shows that, for many, the answer is their

lives

.Clinical trials, academic research and scientific analysis indicate that the danger of the Trump-backed drug is a

significantly increased risk of death for certain patients.

Evidence showing the effectiveness of hydroxychloroquine in treating covid-19 has been scant. Those two developments pushed the Food and Drug Administration to

warn against

the use of hydroxychloroquine outside of a hospital setting last month, just weeks after it approved an emergency use authorization for the drug.Alarmed by a growing

cache of data

linking the anti-malaria drug to serious cardiac problems

, some drug safety experts are now calling for even more forceful action by the government to discourage its use. Several have called for the FDA to revoke its emergency use authorization, given hydroxychloroquine's documented risks.
Some medical professionals, too, issued warnings after Trump's remarks.
Leana Wen, M.D.:
There is NO evidence for hydrochloroquine being effective in treatment of

#covid19

or prophylaxis to prevent the disease. This is a medication that has serious side effects. I am very concerned about

@realDonaldTrump

continuing to model behavior that could harm many Americans.