For a stronger economic future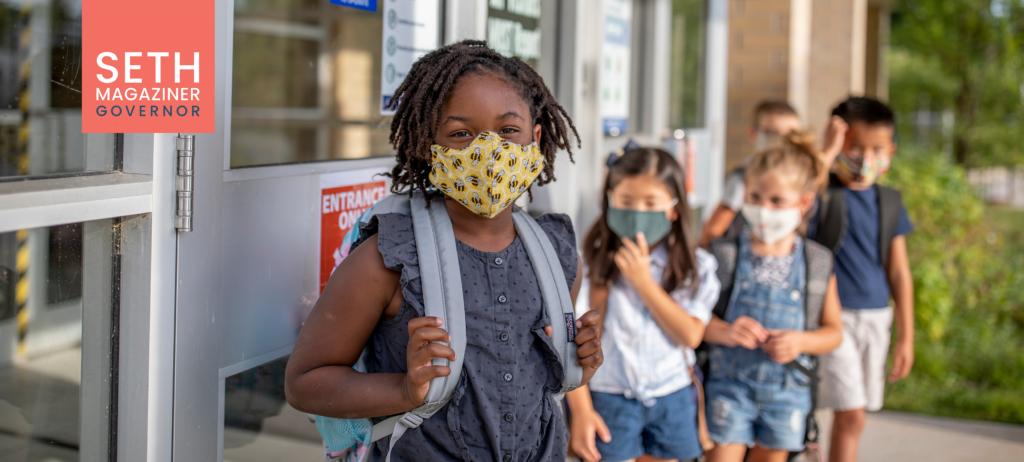 Gubernatorial candidate Seth Magaziner today unveiled his plan to improve public education and workforce training as a key strategy to building a brighter economic future for Rhode Island. The plan addresses four areas: improving K-12 schools for all learners; making higher education more affordable and responsive to job opportunities; improving job training opportunities; and providing universal, high-quality early education.

"A high quality education is the key to building an economy where every Rhode Islander has a path to a good paying job," said General Treasurer and gubernatorial candidate Seth Magaziner.

"I understand the importance of public education and will work to improve our schools, so everyone can compete and succeed in the modern workforce. That's why as Treasurer I made transforming our school buildings a top priority, and as Governor, I will work to ensure every Rhode Island child has the opportunity to succeed."

As General Treasurer, Magaziner has built a strong track record of improving education in Rhode Island.

As co-chair of the School Construction Task Force, he developed the largest public investment in school facilities in Rhode Island's history, allocating $1.4 billion to repair or replace 176 schools, benefitting over 90,000 students annually.

Brand new school buildings like the Henry J. Winters Elementary School in Pawtucket and East Providence High School are just two of the 176 schools already impacted.

Under his administration, Magaziner has also reformed the CollegeBound 529 Savings program to become one of the highest rated college savings plans in the country, expanded the CollegeBound program to cover costs for apprenticeships and other alternative job training programs, while successfully championing the passage of legislation requiring a financial literacy education for all high school students.

Magaziner's education plan identifies the following top priorities:

· K-12: Ensuring all Rhode Island students are able to access high quality public education:

o Continue the progress launched on his watch as Treasurer to transform Rhode Island's school buildings

o Expand and improve high school career and technical education (CTE) programs

o Review and update the state's school funding formula, including increase support for English Language Learners (ELL) students

o Invest in out of school learning programs, to help students make up for the ground lost during the pandemic

o Step up recruitment and retention of hard-to-fill positions and improve the diversity of teacher corps

o Expand school-based mental and behavioral health services for both students and teachers

· Making Higher Education More Affordable and Responsive to Job Openings: Access to a higher education is more important than ever as a majority of jobs in Rhode Island now require a degree beyond high school. As Governor, Magaziner will act with urgency to ensure all Rhode Islanders who want to go college can afford to.

o Expand the Rhode Island Promise Scholarship at the Community College of Rhode Island to adult learners

o Expand the Rhode Island Promise Scholarship to include two free years at University of Rhode Island and Rhode Island College

o Make it easier for high school students and on-the-job apprentices to earn college credit

o Partner with employers to develop higher education programs that are tailored to real job openings, and better integrate on-the-job training into post-secondary programs

· Workforce Training: During the pandemic, Rhode Island lost more than 100,000 jobs and our state has lagged other New England states in recovering these lost jobs. Rhode Islanders deserve better, and need more accessible training opportunities and streamlined hiring processes that tap into local talent to make a full, broad based recovery.

o Expand Real Jobs Rhode Island

o Integrate adult education into workforce training

o Increase apprenticeship opportunities and on-the-job training

· Early Education: Investments in early childhood education lead to higher high school graduation rates and college enrollment rates, increased lifetime earnings, lower unemployment, and gives every Rhode Islander an equal shot at an improved quality of life.

o Guarantee Universal Pre-K

o Increase wages for early childhood educators and child care workers

In developing his plan, Magaziner hosted a roundtable discussion with Rhode Island students, ranging in topics from their K-12 experience to finding work after completing their education.

Magaziner's full education and workforce plan is attached here and available at sethmagaziner.com/education/. Magaziner's other plans for building a stronger, more inclusive Rhode Island will also be released and available online in the coming months.