New guide to Rhode Island slimy critters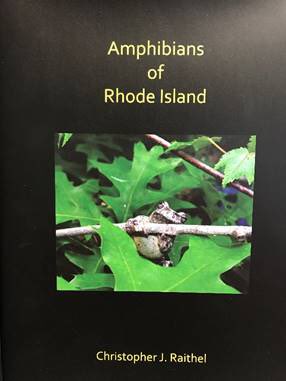 The Department of Environmental Management (DEM) is proud to announce the publication of Amphibians of Rhode Island, an authoritative book spotlighting the 18 species of amphibians that are native to Rhode Island.
Written by longtime DEM natural heritage biologist Christopher Raithel, the book provides meticulous accounts of the state's native frogs, toads, and salamanders and their respective habitats, and includes crisp, vivid photography depicting the amphibians' multiple life stages.
More than just a field guide, it combines an exhaustive search of the historical record and four decades of Raithel's intense personal study to present complete information on the statewide distribution, demography, seasonal movement, reproduction and development, research needs, and conservation status of each species.
One chapter is devoted entirely to conservation, detailing the threats faced by amphibians and the actions needed to safeguard them.
"Amphibians of Rhode Island is an impressive and comprehensive account of our state's native amphibians that sets the stage for conservation for decades into the future," said DEM Director Janet Coit. "Chris Raithel is an expert across many species and his new book will be an enormous asset in Rhode Island and regionally."
Raithel enjoyed a distinguished, 40-year career in DEM's Division of Fish and Wildlife before retiring in 2018.
He began his work by finding and cataloging plant and animal diversity across Rhode Island and assessing the conservation status of less common species.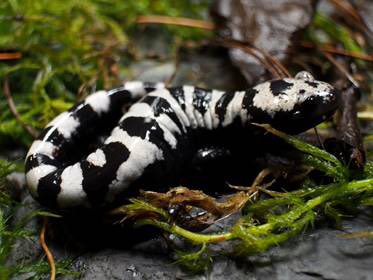 While at DEM, he served as the state endangered species biologist, herpetologist, and non-game bird biologist. A major contributor to the state's first-ever RI Wildlife Action Plan and its 2015 update, Raithel prepared numerous species accounts for the more than 450 Species of Greatest Conservation Need.
He has personally documented individual turtles and their movements and life history for over 30 years.
He is a nationally recognized expert in the management and monitoring of the American burying beetle.
An outstanding resource for scientists, students, and nature lovers alike, the book would make an excellent addition to a school or home library. Published by DEM's Division of Fish and Wildlife, Amphibians of Rhode Island is being sold for $20 including tax.
It may be purchased in person at the DEM Office of Boat Registration and Licensing in Providence by cash, check, money order, or credit card (credit card requires an extra fee) and at the Division of Fish and Wildlife Field Headquarters in West Kingston, by check or money order only.
The book also may be purchased by mail using the order form found at: http://www.dem.ri.gov/bookorder.
The US Fish and Wildlife Service and State Wildlife Grants Program provided funding for the book. All revenue generated by its sale will be directed toward wildlife conservation via the Rhode Island Division of Fish and Wildlife.