"We want other manufacturers to take this and join us to eliminate the PFAS" from food packaging.
https://www.ehn.org/pfas-free-food-packaging-2654648607/pfas-health-effects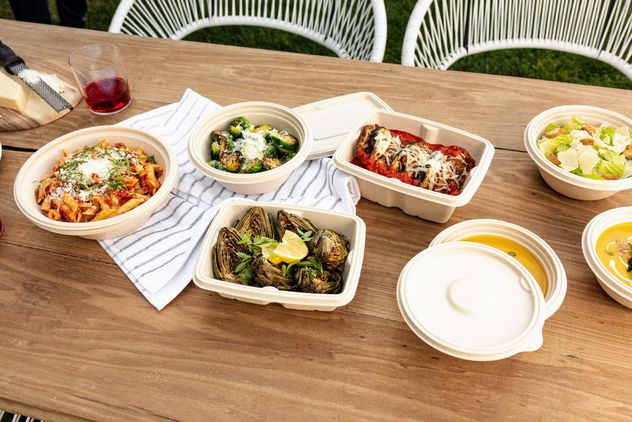 A set of PFAS-free packaging from Zume. (Credit: Zume)


Two American manufacturers unveiled a new recipe for PFAS and plastics-free packaging for everything from burgers to salads, in a bid to make takeout food more sustainable and safer for consumers.

While the companies—Zume and Solenis—are not the first to design a grease-resistant, PFAS-free food container, this is the first time that manufacturers have open-sourced such packaging technology.

"Open sourcing our PFAS-free solution creates a path for brands across the world to remove plastics and harmful chemicals from their consumer packaging and single-use goods," said Zume CEO and Chairman Alex Garden in a prepared statement, adding that this will allow fast food companies to "deliver on their promises" to remove PFAS from food packaging.

The announcement comes as companies and government agencies alike scramble to remove the toxic chemicals from food containers as evidence mounts that PFAS can leach from packaging, contaminating the products inside.

PFAS-free packaging

PFAS, an acronym for "perfluoroalkyl and polyfluoroalkyl substances," are commonly used to coat food packaging to make it grease- and water-resistant. A 2017 study found that 46% of paper food wrappers sampled contained PFAS. Dubbed "forever chemicals" because of their persistence in humans and the environment, PFAS exposure has been linked to liver and kidney cancer, lower infant birth weights, immune system impacts, higher cholesterol and other negative health effects.

In 2016, the FDA banned manufacturers from using long-chained PFAS in food packaging. After finding that a short-chain member of the PFAS family also lingered in humans after eating food contaminated with the compound, 6:2 FTOH, the FDA and manufacturers announced last year that they would phase out use of that compound as a food container coating. Certain countries, like Denmark, have recently banned all PFAS from food packaging.

Pam Horine, Vice President of Product Research and Compliance for food packaging company Zume, told EHN that restaurants were regularly asking the California-based manufacturer for a PFAS-free food container. Those inquiries coupled with the manufacturer phase-out led Zume to look into making a molded fiber container without fluorinated chemicals or plastics.

Over the course of nine months, Zume and chemical manufacturer Solenis worked on designing a new container. They came up with a formula that includes adjusting the fiber blend and structure to ensure that water would run off it easily, applying a specific blend of water-repellent chemicals to the fiber slurry, and molding the products at a high pressure. The latter is "key to compacting and getting this really dense, robust structure to prevent the oil and grease from migrating through," said Horine.

The team decided to open source their formula, she said, because Zume and partners don't have adequate manufacturing facilities to rapidly meet the demand for PFAS-free packaging and cut back on single-use plastics in the industry writ large. "We want other manufacturers to take this and join us to eliminate the PFAS" from food packaging, said Horine.

The containers are designed to break down in commercial composters in three months.

PFAS health effects

Dr. Rainer Lohmann, a professor of oceanography at the University of Rhode Island who researches PFAS contamination, told EHN that the ubiquitous presence of PFAS detected in Americans' bodies makes it clear that we're not just exposed to the chemicals from military or industrial contamination sites.

While researchers are still figuring out how exactly our everyday activities and products expose us to PFAS, food packaging seems a likely culprit. "It's one of the few which offers a direct pathway for transfer into food items that we then consume," Lohmann said.

Past industry efforts to develop safer alternatives to dangerous chemicals used in packaging have at times resulted in an unfortunate realization: the substitute is also hazardous. When asked about the safety of the new PFAS-free food container, a spokesperson for Solenis said that its components have been thoroughly tested by the company for safety. And all products used in it follow U.S., European and Chinese food contact recommendations and standards.

Lohmann said that a product complying with U.S. standards does not guarantee its safety, noting that certain PFAS compounds are still allowed in commerce despite health concerns. But the compounds used in the new products, Lohmann said, did not appear on first glance to contain any chemicals of concern, like fluorine or chlorine, or any other red flags.

And "free of PFAS is certainly better than with PFAS," he added.