Mattiello had Fogarty's name taken off a bill with Wite-Out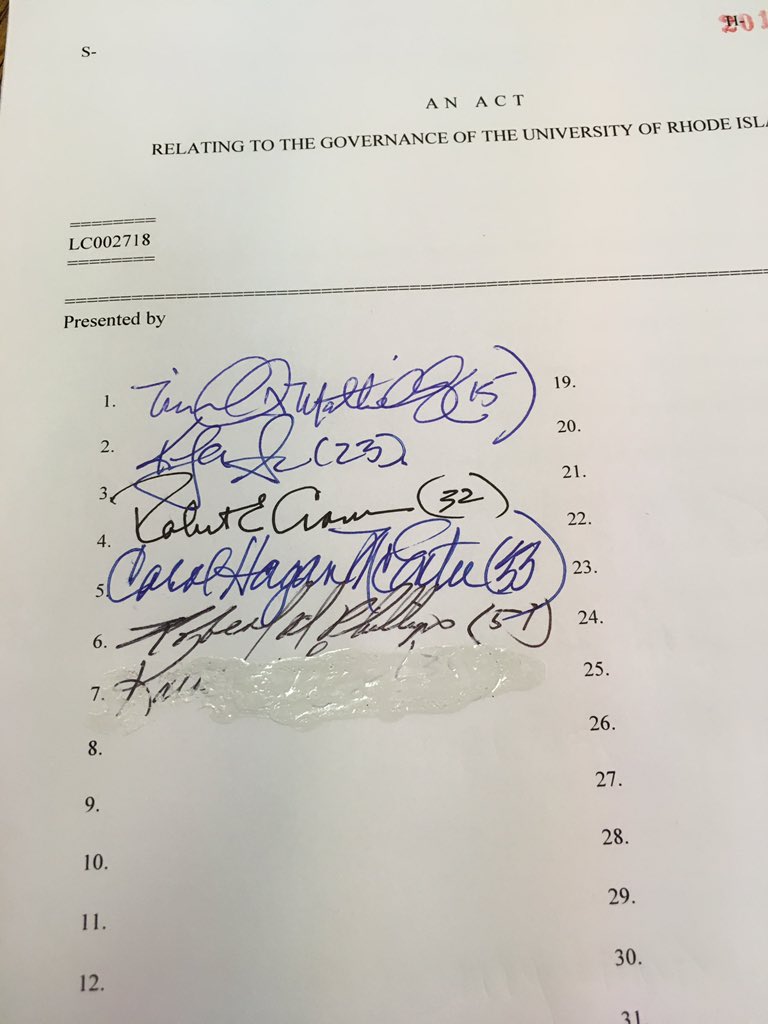 The proof: Line #7. Did they run out of Wite-Out?
"I am here to tell you that this is not leadership. It is outrageous. It is unethical. It is yet another example of retribution. It is childish behavior that demands maturity, honesty and integrity."
Rep.

Kathleen Fogarty

(Democrat, District 35, South Kingstown) has accused House Speaker

Nicholas Mattiello

(Democrat, District 15, Cranston) of using Wite-Out to remove her name from

House Bill 6180

–

Relating to the Governance of the University of Rhode Island

.
The University of Rhode Island is in Fogarty's district and of interest to her constituents.
In an open letter, Fogarty writes that that she was approached by "a visibly shaken" Majority Leader

Joseph Shekarchi

(Democrat, District 23, Warwick) who informed her that her name was being removed from the bill.
She writes, "When I confronted [Speaker Mattiello] on the House floor, [he] responded that it was [his] bill and [he] could do whatever [he] wanted with it."
Fogarty has searched in vain for a Rule that would allow the Speaker to remove her name from the bill. She asks in her open letter if Witing-Out the names of Representatives on bills is common or if this is a first time occurrence.
Fogarty is a member of the

Reform Caucus

, a group of about twenty Democratic Representatives that opposed Representative Mattiello's Speakership.
Though the Reform Caucus was mostly unsuccessful in stopping Mattiello from becoming Speaker or effecting changes to the Rules, and Mattiello himself said there would be no retribution for their opposition, Mattiello has in fact removed members of the Reform Caucus from positions of committee leadership and membership, and taken other punitive measures against them.
There has been no answer from the Speaker's office to inquiries about this incident.