International Space Station (ISS) makes SEVEN minute pass tonight
By Will Collette
Usually, the longest International Space Station overflight lasts 6 minutes, roughly the distance the ISS takes to cross from one horizon to the opposite end of the sky.
Tonight, NASA has it posted for seven minutes - I've never seen one longer. It will start at 7:23 PM sharp in the west-southwest and will make its way to the northeast where it will disappear. Along the way it will rise to 65 degrees above the horizon at its maximum height.
By the ISS arrival time, our sunny sky might pick up a few clouds. The
National Weather Service
forecasts clouds and a chance of showers later on, hopefully after the ISS has come and gone. Seven minutes of flight time - the maximum length - covers almost the entire dome of the sky so the ISS should be visible much of those seven minutes for your viewing pleasure.
Tonight's overflight will follow this schedule and path, according to NASA:
Time: Sun Sep 17 7:23 PM, Visible: 7 min, Max Height: 65°, Appears: 10° above WSW, Disappears: 10° above NE
You can take it to the bank that the ISS will do exactly what NASA says it will.
You can enroll for free membership in NASA's list for emails on overflights of the International Space Station. You can sign up to get those e-mails
here.
The silent majesty of its movements never get old, at least to me.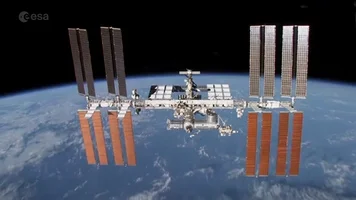 About the only human space "exploration" left is the International Space Station.
While we wait for humanity to once again reach for the stars, we get to see the ISS serenely cross our skies on occasion when timing, their orbital path and the weather cooperate.
The station will be visible right at the designated start time and will arc over the sky until it reaches the point NASA designates where it will seem to vanish.
This is science, folks, so the times are exact.
We can generally see the ISS shortly after sunset and also shortly before dawn when the sun's rays hit it just right.