News bits for South County readers
By Will Collette
New house, new job
South County Habitat for Humanity just completed its 58th

home, this one in South Kingston for a family of six.

According to their website, they have another house in the works in Hopkinton. Even though SC Habitat is headquartered in Charlestown, their efforts are not appreciated by the Charlestown Citizens Alliance which has opposed any new housing for families with children.
Hopefully, the new Charlestown Town Council will change that. The first Council with a majority NOT owned by the CCA was sworn in on December 5.
South County Habitat is also looking to hire a new Director of Construction to start January 1. The salary range is $62-65,000.
This job was posted on Rhode Island Community Jobs, a listserv for public service work across Rhode Island and nearby Massachusetts and Connecticut. It's run by Brown University's Swearer Center. To get on the list, send an email to ricomjob@BROWN.EDU or go to http://listserv.brown.edu/archives/ricomjob.html.
I know you don't want to hear it BUT…
We are still in a COVID pandemic and the annual winter surge is beginning right on time. I'm not the one making this claim – it's Dr. Tony Fauci, one of my personal heroes who will be

retiring at the end of this month.
Fauci said on NBC's "Meet the Press "We certainly are still in it. I think you just need to look at the numbers. We're still having between 300 and 400 deaths per day."
Rhode Island's numbers – to the extent the state still collects them – show that our rate of infection remains at between 90-150 cases per 100,000, compared to our low point in summer 2021 of only 10.
On top of that, we're having one of the worst flu years in decades and young children are being hospitalized at alarming numbers for RSV, a respiratory infection now raging through Rhode Island and the rest of the country.
It's our own fault, as well as our leaders. Inept Governor Dan McKee decided it would be best for small business to pretend COVID is gone so he lifted all restrictions and cautionary recommendations. He closed the test sites and let drug stores handle vaccinations. For the most part, Rhode Islanders were happy to go along with the fairy tale.
Less than half of Rhode Islanders have gotten the new bi-valent COVID vaccine that is quite good at dealing with the new variants. On the other hand, immunity has waned for people who got the shots initially, but then didn't bother with boosters.
Look, be sensible. You don't want to catch COVID or the flu and you don't want your kids or grandkids in the hospital with RSV. Put simply, mask up and get your shots.
Charlestown New Year's Eve Bonfire
One of Charlestown's past bonfires (photo by Will Collette)
I am told by a reliable inside source that Frank Glista will once again build Charlestown's popular New Year's Eve bonfire at Ninigret Park. Made from scrap donated wood pallets, the bonfire is attended by the Charlestown Fire department and usually draws a big crowd.
In 2013, the bonfire drew a Notice of Violation for illegal burning of municipal trash from DEM after an anonymous "whistleblower" tip. The citation was dismissed, thanks to our then state Representative Donna Walsh. The identity of the anonymous tipster is unknown but I think his/her first name rhymes with "Tooth."
Gavle Goat before...
For many years, I have segued between our bonfire and another incendiary holiday celebration,

Sweden's famed Gavle Goat. The Town of Gavle has been erecting a giant goat effigy made of sticks and straw for decades, but almost immediately, it was the source of trouble.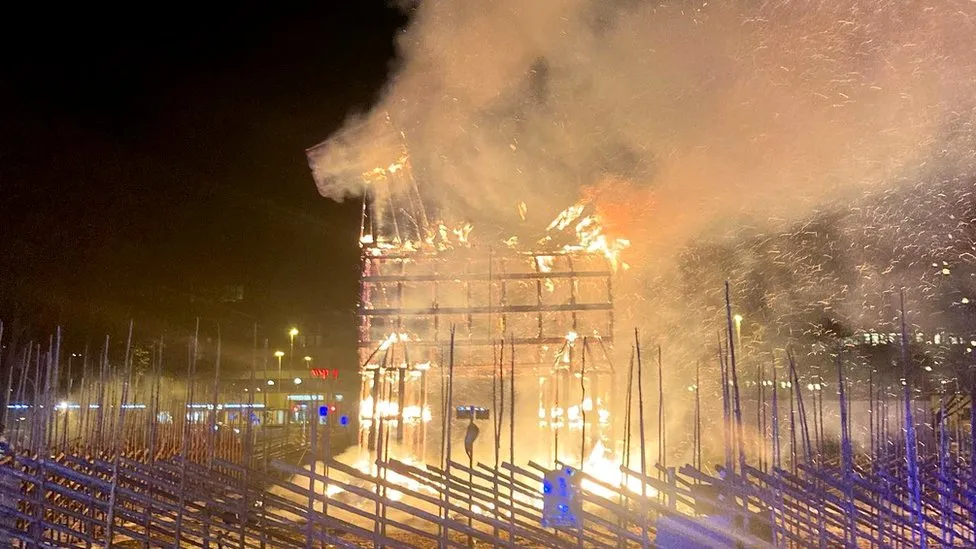 ...and after
From the beginning, it became a source of amusement

for about half the town to see whether the Goat would make it through Christmas without being torched by arsonists. The other half are horrified. Last year, the

Goat burned just before Christmas. A man with soot on his hands was arrested nearby.
The town is building a new cultural center which will host the Goat among other things. To make way, the Goat will spend the next three Christmas seasons in a nearby location, surrounded by a double row of fencing, guards and around-the-clock surveillance. We'll see how well it does in its new location.
Those Swedes sure know how to have a good time.
Charitable giving: do your own
Many stores, from Job Lot to Stop & Shop to CVS, exert sometimes subtle, sometimes aggressive pressure on customers to give to company-chosen charities at check-out.
I firmly believe that each of us should give as generously as we can to the groups that serve our community, but I am against check-out charity.
Adding to my misgivings is a recent article in the Boston Globe about a lawsuit against CVS's check-out charity, accusing it of fraud. Here's how the Globe described it:
In May, a New York resident filed a class-action complaint, accusing CVS of deceptive fundraising in a campaign it held for the American Diabetes Association. Prior to each customer's transaction, a checkout screen prompts the customer with several options for pre-selected dollar amounts, as well as an opt-out option, allowing donations to the diabetes association. Yet, the plaintiff alleges, CVS did not forward donations to the diabetes association, but instead applied the donations toward a legally binding $10 million obligation CVS made to the diabetes association.
Not to mention that CVS, not the donating customer, who gets the charitable tax deduction and the publicity value.
CVS confirms the basic facts in its motion to dismiss but asserts that "CVS has no debt to the ADA," although it is pledged to make up the difference between what customers give and the $10 million.
I give directly to the charities I support. Whether it's RICAN, the WARM Center, the RI Community Food Bank or Doctors without Borders, it's very easy and much more satisfying without feeling like I'm being pressured to give through some store.
Good article on the Tomaquag Museum
Artist's conception of the NEW museum slated to open in 2024
If you don't know about the Tomaquag Museum, a wonderful local institution that preserves the history of native people in Rhode Island, you should read a

very thorough new article in the Brown Daily Herald. The author,

Laura David

, the Herald's Arts & Culture Editor, spent a lot of time with Tomaquag director Loren Spears to produce a well-written piece on the museum as it is.
I'm looking forward to 2024 when Tomaquag plans to open its brand new and expanded museum in South Kingstown done in partnership with URI. CLICK HERE for more details.
South County needs more parking but there's concern about tribal artifacts
SOUTH COUNTY HOSPITAL

People who use South County Hospital know what a hassle parking can be. The hospital and the town of South Kingston have been trying to work out a plan for a new 100-space lot south of the main building and almost abutting Route One.
This plan has raised concerns by the Narragansett Indian Tribe about disturbing human remains and tribal artifacts, on top of the usual NIMBY opposition from neighbors. Given the location, you can reasonably assume there are Narragansett artifacts there, The Tribe's search has not been completed and, so far, there isn't any hard evidence.
The Boston Globe describes how tempers are flaring on both sides quoting South County Health president and CEO Aaron Robinson:
"We vehemently object to the characterization that we knowingly wanted to proceed with something over known Native American remains[w]hich we still believe has not been proven in fact. (But) we understand which way the wind is blowing on this."
Narragansett elder Bella Noka told the SK Town Council:
"My life, do I want to put it in the hands of you men? If you can have this conversation about paving over sensitive grounds for my ancient ones, you'll have no trouble paving over me."
The Town Council directed the SK Town Manager to try to work out a compromise among the parties. Lots of luck with that.
The Right on drugs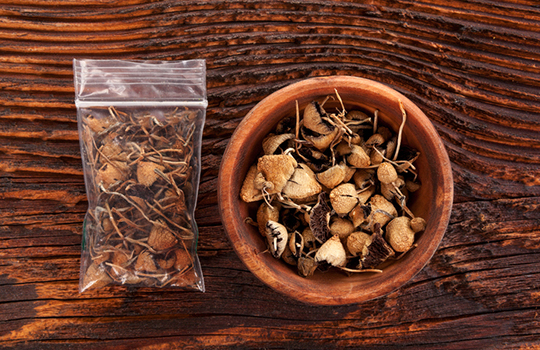 I

reported earlier

that right before the November election, Charlestown's ex-state Representative Blake "Flip" Filippi seemed have launched a new crusade to completely deregulate psilocybin, a.k.a. "magic mushrooms," a powerful hallucinogen.
He cited some positive results by Johns Hopkins University using the drug to treat mental disorders in veterans as the reason to not only legalize psilocybin but allow anyone to buy and use the drug from any source.
I wondered if Flip had taken magic mushrooms before putting out this position. It turns out that, as usual, Flip is simply going along with another far-right grift of the same type that fueled the boom in sales of ivermectin during the pandemic.
The Guardian did a detailed probe on "Why is the American right suddenly so interested in psychedelic drugs?". The answer turns out to be pretty simple: money.
Much of the funding to promote psilocybin comes from the far rights financiers, including Peter Thiel and the Mercer family. Not coincidentally, they are also investing heavily in pharmaceutical companies positioned to make and market the drugs.
Filippi fails
Last month, I reported how Steve Filippi, Flip's brother and operator of Ballard's, the crown jewel of the Filippi Block Island empire, lost in his bid for a Town Council seat even though he ran unopposed. More Block Island voters wrote in other names and, after all the ballots were counted, Filippi ran dead last.
I also noted the major battles between the town and Ballard's over drunken brawls that even spilled over to the Block Island Ferry. The town temporarily suspended Ballard's license and naturally, complicated litigation ensued.
That could have gone on for years except the town and Ballard's announced a resolution to their issues that will mean Ballard's will no longer be allowed to host music festivals and will have to hire more town police officers to deter future trouble.
The consequences of insurrection
Patrick Cloutier
I wonder if

defeated Richmond state Representative Justin Price

is feeling the noose tighten.
Two of his fellow January 6 insurrectionists made the news on December 7 because their participation in the attempted coup had unintended consequences for them.
The Providence Journal reported on a lawsuit by Patrick Cloutier of Connecticut against the town of Westerly and Westerly School Department over his dismissal as a substitute teacher and detention monitor (I wonder if he used the teacher in Breakfast Club as a role model).
Cloutier claims his rights were violated because the school fired him over his anti-vax beliefs, remarks about Dr. Anthony Fauci and role in the January 6 insurrection. He wants his job back, lost wages and compensation for emotional distress.
Like Justin Price, Cloutier admits he was in the area of the January 6 riot, but did not enter the restricted areas or join in the mayhem. He claims on his Anti-Comintern Blog that:
"Hundreds and hundreds of innocent people have been swept up by the Biden Regime in a reign of terror and thrown into D.C. jails, where they have been subjected to physical and mental abuse at the hands of the authorities."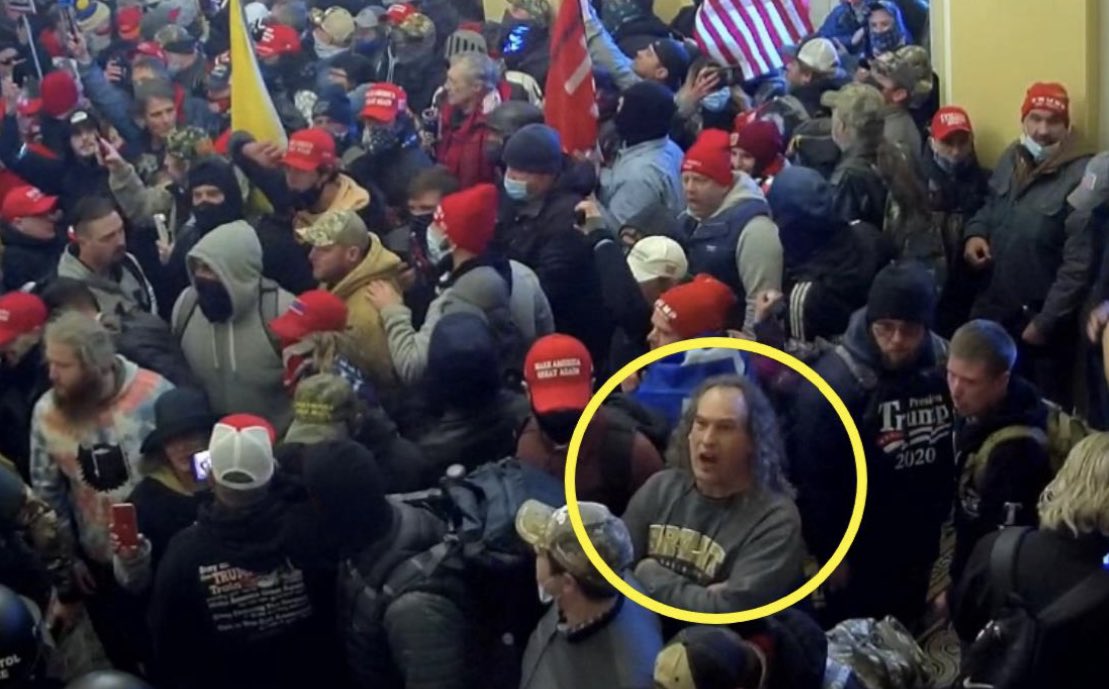 William Cotton (circled) FBI photo
Cotton is the third Rhode Islander to be formally charged for crimes committed during the attempted coup.
We've come to learn with horror how close we are and have been to losing our democratic form of government, the right-wing mobsters who attempted the right-wing coup remind me of Ralph Waldo Emerson's famous line: "Never strike a king unless you are sure you shall kill him."
More job openings: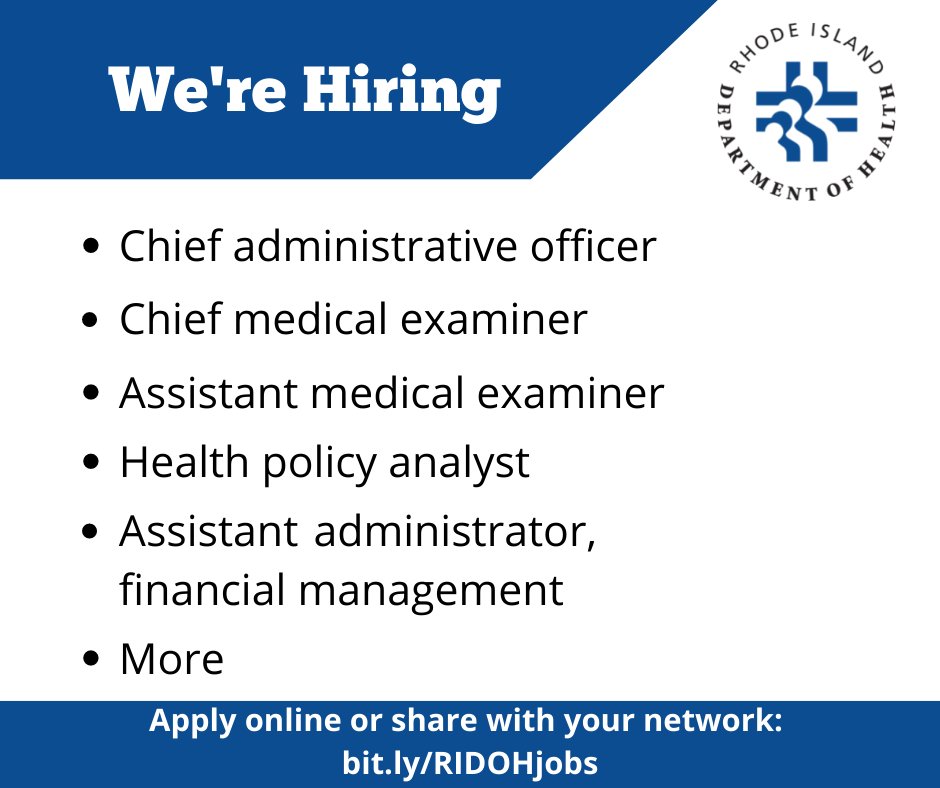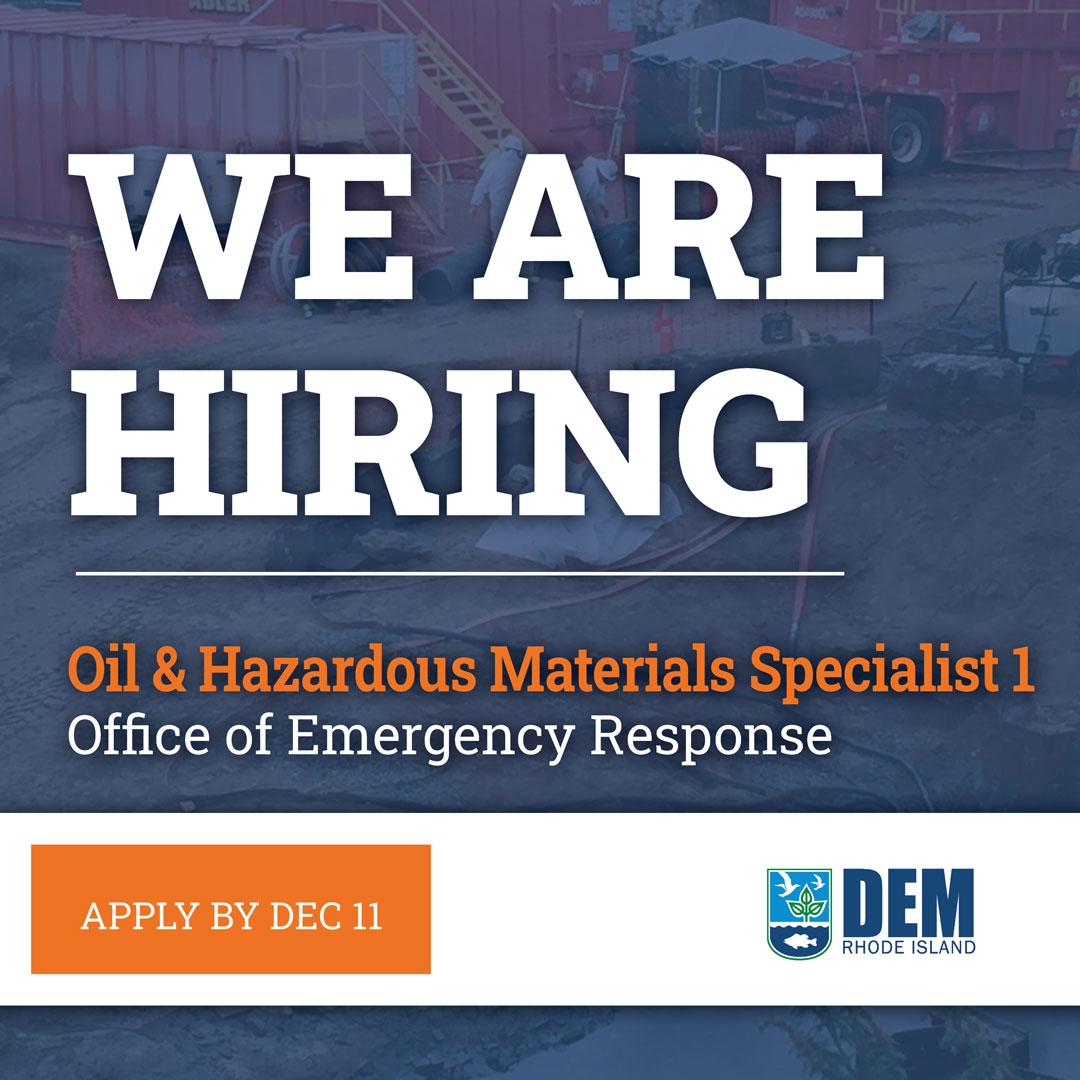 For a full description of this opportunity and to apply, please visit:

governmentjobs.com/careers/rhodei.