CD1 candidates take on abortion, climate and affirmative action in first in-person forum
By Kevin G. Andrade, Rhode Island Current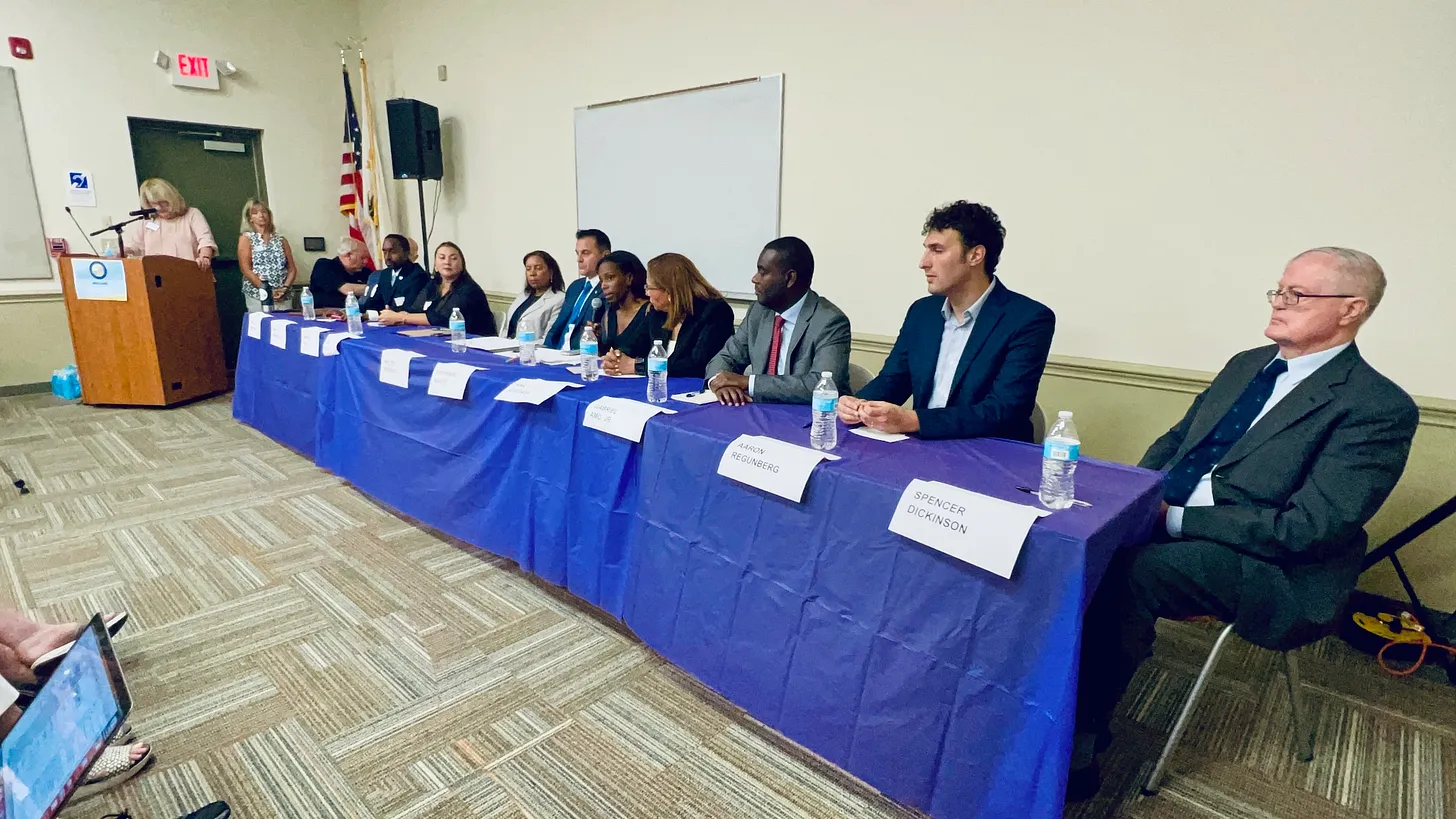 Photo by Steve Ahlquist


Democratic candidates for Rhode Island's open congressional seat squared off in a wide-ranging debate dominated by questions of abortion access and the climate crisis.

About 50 people gathered at the Weaver Library as 10 of the 12 Democrats running in the 1st Congressional District race vied for votes ahead of the Sept. 5 primary by sharing their views on equality, affirmative action and even fiction.

"Who is your favorite fictional character," queried Rev. Donnie Anderson, chair of the Rhode Island Democratic Women's Caucus, the host of the event.

"Belle," responded Stephanie Beauté, a technology professional. "She likes books and she doesn't need a boy."

Candidates received only 90 seconds for an opening statement, 45 seconds to respond to questions, and 60 seconds for a closing statement. They were prohibited from speaking or referring to each other directly over the forum's 75 minutes.

The forum was the second, following a virtual event Wednesday hosted by Raymond Baccari, Jr., a Rhode Island College student and YouTuber, and Ryan Lukowicz, a South Kingstown High School senior and podcaster.

Participants Monday included: Gabriel Amo, Beauté, Walter Berbrick, state Sen. Sandra Cano, Don Carlson, Spencer Dickinson, Providence City Councilman John Gonçalves, Lt. Gov. Sabina Matos, state Sen. Ana Quezada, and J. Aaron Regunberg.

Allen Waters, a former Republican, declined to participate because Anderson is a transgender woman. Woonsocket Rep. Stephen Casey did not respond to invitations, according to Anderson.

Several of the candidates took a foreboding tone when asked about bodily autonomy, with fears particularly strong regarding access to abortion. Matos, a frontrunner whose campaign was just referred to the Attorney General's Office for investigation over signatures collected in several East Bay municipalities, said her children motivate her to maintain abortion access.

"I'm very concerned that right now we're losing our rights," Matos said. "I believe that right now, we're at a place where my daughter could have less rights than I did and it shouldn't be that way.

"We have to fight to codify [abortion access] at the federal level."

Cano and Quezada cited their advocacy for the Equality in Abortion Coverage Act — signed into law this year by Gov. Dan McKee — as a template for what they would champion in Washington, D.C. The law allows Medicaid funds and state employee health insurance to fund abortion care.

"I'm the only one that has been vulnerable enough to tell my story," Cano said. "I face fertility issues and as a Catholic myself have faced attacks from my own community" due to advocacy of the law.

"I represent a district that is very conservative and I'm still here because I stand by my values," Quezada said. "We don't have to wait for politicians to decide what to do with our bodies."

The only exception to the support for abortion access was Dickinson, a former representative in the General Assembly from South Kingstown. He said that no more laws should safeguard the procedure.

"Every abortion is a tragedy," he said.

Anderson also asked candidates for their positions on the recent Supreme Court decision banning affirmative action.

"The Supreme Court decision is a tragedy," said Walter Berbrick, a former teacher at the U.S. Naval War College. "It's a tragedy for our youth and those in historically underfunded communities."

"This is my story," said Amo, a one-time staffer for both former Gov. Gina Raimondo and President Joe Biden. "This is why I've been able to serve at the heights of government because of government being active and reaching the high ideals of our country. In government I helped build teams, diverse teams, teams that helped build this country."

Beauté, however, used the question as an opportunity to take Rhode Island Democrats to task. She said they should use the election to promote diversity in democracy.

"This is a person issue," she said. "Not a party issue. It's even more evident in the space we're in here and the seat we're going for here."

She said Rhode Island should send a woman of color as its next congressperson in a seat that has been exclusively held by white men.

"We don't have equity and inclusion in this seat," she said.
Health care and climate crisis
No candidate opposed the idea of universal health care, though there was variation in their approaches. Regunberg, a former Providence representative and candidate for lieutenant governor, advocated for a gradual lowering of the age of Medicare qualification.
"Healthcare is a right," he said. "That's not how it's treated in this country now."
Gonçalves said that he would fight to protect Social Security and advocate for universal health care in the form of Medicare for all. "There are so many people out there who are a medical emergency away from catastrophe," he said.
When asked about legislative solutions to the climate crisis, the candidates spoke of the Green New Deal and its potential to bring jobs to Rhode Island. Carlson, a professor at the Yale University School of Law, said that he would be realistic about what can be accomplished.
"Right now, [Democrats] don't have a majority," he said. "A high priority is to get Democrats the majority, then, maybe, we can bring these dreamy ideas to life.
"But first, bring money to Rhode Island."
Several candidates said the Infrastructure Investment and Jobs Act is a tool leaders currently possess to make Rhode Island more environmentally friendly.
"We need to make sure we have infrastructure investments in our community," Cano said. "We need to bring infrastructure dollars to Rhode Island to reduce the climate impact."
The deadline for registration to vote in the primary or to disaffiliate is Aug. 6.
GET THE MORNING HEADLINES DELIVERED TO YOUR INBOX
SUBSCRIBE
Rhode Island Current is part of States Newsroom, a network of news bureaus supported by grants and a coalition of donors as a 501c(3) public charity. Rhode Island Current maintains editorial independence. Contact Editor Janine L. Weisman for questions: info@rhodeislandcurrent.com. Follow Rhode Island Current on Facebook and Twitter.