COVID infection rate soars; jellyfish and Portuguese Men-o-War and a hurricane?
By Will Collette
The only good news in these Health Dept. stats are the increased number of tests
There is a very slim chance that we could be hit by a Hurricane Henri on Sunday. Very slim. I'll give you what detail is available below.
👈 Of more immediate concern is Rhode Island's new COVID-19 surge which has taken our transmission rate from June's 12 per 100,000 of population to 194 per 100K today.
For perspective, a "good" number is around 10 per 100K. That gets you rated at "Low" transmission (color blue). We have already risen through yellow and orange and now are rated "High" because at 194.5, we are higher than 100.
Our accidental Governor Dan McKee seems unable to grasp the significance of this sharp spike in community transmission and still refuses to mandate mask wearing in our schools which are about to open.
The Delta Variant of COVID-19 is taking a deadly toll of children under 12 because they can't get vaccinated. But despite the urging of the American Academy of Pediatrics, Treasurer Seth Magaziner and Secretary of State Nellie Gorbea, McKee seems frozen in his tracks.
If McKee had the balls, he would order schools to mask up and would also require masking by all in all public indoor spaces. He would prohibit incoming travelers from COVID hotspots like Florida, Texas, Missouri, Arkansas, Louisiana, Mississippi and Alabama. Except he doesn't.
Public gatherings are also problematic, given our high transmission rates. Because the state is doing so little testing plus the time element, we don't know yet whether Charlestown's Seafood Festival or the Washington County Fair have been "super-spreader" events. However, common sense tells you they didn't help.
Anyway, let's do what we know is the right stuff to do: get vaxxed, mask up, stay out of crowds where there are lots of unmasked people and pay attention.
Ocean threats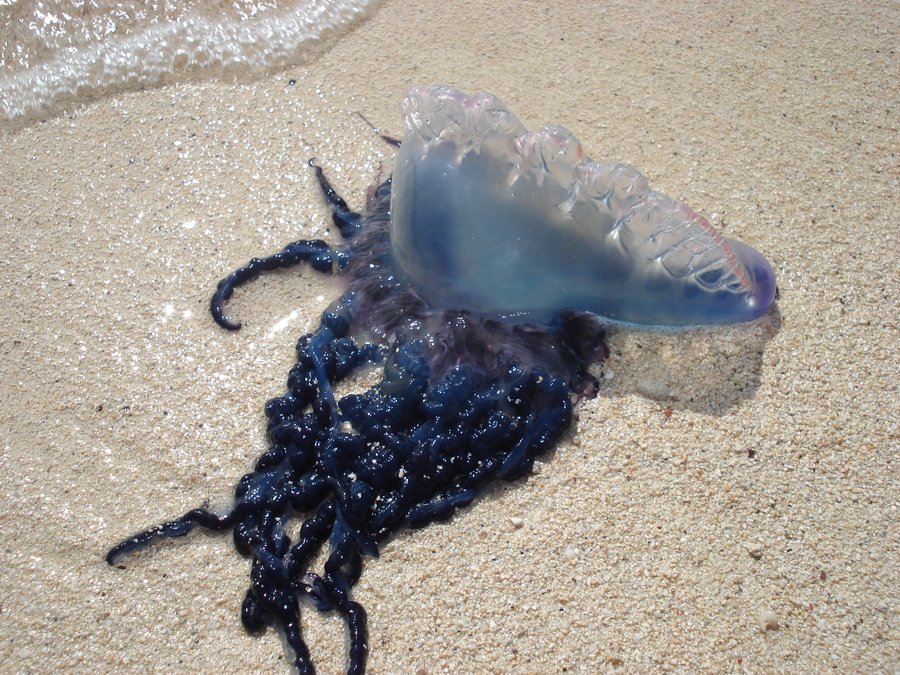 DEM has alerted beach goers to watch for stinging sea critters. In July,
thousands of stinging sea nettle jellyfish
showed up in Ninigret Pond and also Green Hill Pond. I haven't seen any reports on them lately, but they may still be around. Their stings hurt, but are generally not fatal.
On August 13,
DEM tweeted
:
"

ATTN beachgoers: be advised that DEM is flying purple flags
at RI state beaches warning swimmers of the presence of the Portuguese Man o' War, a dangerous jellyfish-like creature with long tentacles + painful sting, with recent reports of them washing up on the southern coast."
And in a related tweet: "
Abundance is low so far, with few washing up on our southern beaches," said Katie Rodrigue, Principal Marine Biologist from DEM Div. of Marine Fisheries. "They are likely coming up on the Gulf Stream + being brought to shore by southerly winds. This marine event is often short....
"If swimmers see something that looks like a balloon floating on top of the water, they should stay far away," said Rodrigue.
"
So, do not touch jellyfish of any kind. They do not make good pets and not not good for humans to eat.
Hurricane Henri?
As we go into peak hurricane season, it makes sense to pay attention to what kind of storms are developing in the tropics. Among several active system, Tropical Storm Henri, expected to gain hurricane strength in the next day or two, seems to be the one most likely to come our way.
The National Weather Service is currently putting out mixed signals, saying on one hand that it will miss Rhode Island and only cause waves and rip currents, while the National Hurricane Center's map shows the 👈 "cone" of Henri's track covering some parts of southern Rhode Island.
Charlestown is just a whisker outside the cone.
Tropical storm conditions possible. A chance of showers before noon. Mostly cloudy, with a high near 78. Chance of precipitation is 40%."
But that forecast is tempered by a "Hazardous Weather" statement which says:
Tropical Storm Henri is forecast to pass well offshore this weekend,
but could still bring high surf and rip currents to ocean beaches.
Minor coastal flooding is also possible. There is a low chance of
tropical storm force winds on Cape Cod and the Islands.
What you can take away from this information is how hard it is to accurately forecast major storms over the course of several days. They can change track and intensity changing the impact to people quite dramatically. In July, we had Tropical Storm Elsa deliver almost a direct hit on Charlestown with less effect then a typical nor'easter.
With a couple days to go before Henri gets closer (and the forecasts get more precise), the best advice is to pay attention.