Includes Langevin's amendment requiring a report on the impacts of offshore drilling on coastal communities and their economies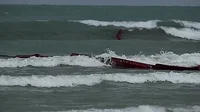 Congressman Langevin (D-RI) voted in favor of H.R. 1941, the Coastal and Marine Economies Protection Act, which would ban oil and gas drilling off the Atlantic and Pacific Coasts.
The bill would definitively reject a Trump Administration proposal, currently held up in the courts, to reverse protections of these waters that were put in place by President Obama. H.R. 1941 passed the House by a vote of 238-189.
"In the Ocean State, we know how important it is to protect our oceans and coastal waterways,"

said Congressman Langevin

, the Energy Task Force Chair of the Sustainable Energy and Environment Coalition in the House.
"Offshore drilling is a threat to Rhode Islanders who depend on clean oceans and beaches for their livelihoods. I have heard from fishermen, leaders in the hospitality industry, and environmental advocates that allowing drilling off our coast will cause irreparable harm. There is a better way to create jobs and meet our energy needs than drilling in our oceans. It's time we move past dangerous, dirty fossil fuels and increase our investment in clean energy solutions."
During consideration of H.R. 1941, the House adopted Langevin's amendment requiring the Government Accountability Office to produce a report outlining the impacts of offshore drilling on coastal communities and their economies. Elements of the report include:
An outline of how oil and gas companies interact with local stakeholders, including fishermen;

A description of the impact of offshore oil and gas extraction on tourism;

An analysis of any limitations on the data available because the Outer Continental Shelf has not historically been open for drilling; and

A description of the recovery time for ecosystems following an oil spill.
The amendment requires the report to be submitted to the House Committee on Natural Resources and the Senate Committee on Energy and Natural Resources within a year.
"The report required by my amendment will document the many economic, ecological, and cultural impacts offshore drilling has on coastal communities," added Langevin.
"The costs of offshore drilling are clear to Rhode Islanders, and I hope the GAO report will help the Trump Administration see why it needs to abandon its misguided offshore drilling policy."